pADL-10b
Technical Description
pADL™-10b is a phagemid vector designed for phage display on the filamentous bacteriophage M13 or equivalent. This vector contains a PelB leader sequence followed by a full-length copy of the gene III sequence and a double-SfiI cloning site to introduce foreign polypeptides on the N-terminal side of the gene III protein. Expression of the fusion is under the tight control of a lac promoter. A strong transcriptional terminator upstream from the promoter efficiently represses undesirable expression and prevents promoter leakiness in absence of induction, thus limiting negative selection against clones bearing toxic products. The absence of amber codon before the gene III results in strong display (Fig. 1).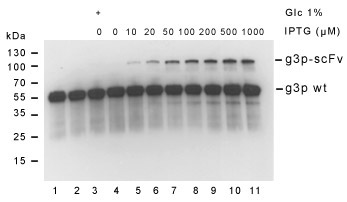 Figure 1. HyHEL-10 scFv Display. Western blot analysis of phage particles derived from M13KO7 (lane 1), pADL-10 alone (lane 2) or pADL-10 with the HyHEL-10 scFv insert in varied stages of IPTG induction (lane 3-11). Blot made with a gene III protein antibody.
Applications
Phage display at the N-terminal side of gene III protein of the filamentous bacteriophage.

scFv display.
For research use only; not intended for any animal or human therapeutic or diagnostic use.
Specifications
General Characteristics:
Plasmid Size: 4990
Promoter: lac promoter
Leader Peptide: PelB
Cloning Site: double-BglI/SfiI, NotI-SpeI
Fusion Protein: full length gene III protein
Selection: ampicillin
Replication: oriF1, pMB1
Physical Characteristics:
Concentration: 0.5 µg/µl.
Product Size: 10 µg.
Buffer: DNA Conservation Buffer (Tris/HCL 5 mM, EDTA 0.1 mM, pH 8.5, sterile).
Storage Temperature: -20°C.
Quality Control & Certification of Analysis
Product Size:
Digestion by BamHI, HindIII ad XbaI generates 3 fragments of 3.6 kb, 0.73 kb and 0.64 kb.
Product Sequence:
Sequence of the gene III protein including leader peptide and MCS is analyzed.
Certification:
Product meets all specifications.