TEGX-SCblue
Cloning Vector for the Expression of scFv-Fc Fusion Molecules for Phage Display
Technical Description
The TGEX™-SCblue vector is designed for the mammalian expression of scFv-Fc fusions after transfer of scFv fragments from the PADL™ phagemid vector series. TGEX™-SCblue vector enables rapid and convenient expression of scFv fragment isolated by phage display as dimeric scFv-Fc fusion with all the advantages conferred by the Fc fragment for detection using commercially available secondary antibodies. Transfer of the scFv inserts are done seamlessly through a common double-SfiI (Fig. 1). Proper recombinant clones can be isolated using a blue/white colony screening.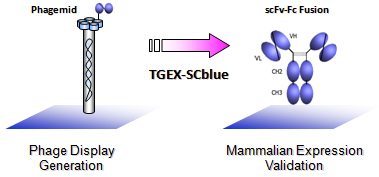 Figure 1. scFv Phage Display to scFv-Fc Expression. Expression of free scFv from multiple phage clones is not an easy task in bacteria and binding is often weak because of the monovalency of scFv. Using TGEX-SCblue scFv fragments can be easily transferred to a convenient mammalian transient expression system as scFv-Fc fusion (Valadon (2006), Yoon (2012)). With yields in the 10 to 100 mg/L range, just a few ml of culture is enough to validate your antibodies in any assay using simple secondary antibodies.
Applications
Mammalian expression of scFv-Fc or VHH-Fc fusion molecules in combination with phage display
For research use only; not intended for any animal or human therapeutic or diagnostic use.
Specifications
General Characteristics:
Plasmid Size: 4323
Promoter: CMV + TPL
Leader Peptide: pelBK
Cloning Site: Double SfiI site compatible with pADL phagemid vectors
Fusion Protein: human IgG1 Fc constant region
Selection: ampicillin
Replication: pMB1 high copy number
Physical Characteristics:
Concentration: 0.5 µg/µl.
Product Size: 10 µg.
Buffer: DNA Conservation Buffer (Tris/HCL 5 mM, EDTA 0.1 mM, pH 8.5, sterile).
Storage Temperature: -20°C.
Quality Control & Certification of Analysis
Product Sequence:
The entire plasmid sequence was confirmed by the Sanger method.
Certification:
Product meets all specifications.
References
Valadon, P., Garnett, J.D., Testa, J.E., Bauerle, M., Oh, P. and Schnitzer, J.E. (2006). Proc Natl Acad Sci U S A. 103(2):407-12.
Yoon, H., Song, J. M., Ryu, C. J., Kim, Y.-G., Lee, E. K., Kang, S., & Kim, S. J. (2012). BMC Biotechnology, 12(1), 62.