Anti-M13 g8p Monoclonal Antibody
Technical Description
Anti-M13 g8p antibody clone A4G1.6 is a mouse monoclonal developed especially for phage ELISA. The antibody recognizes an epitope of the main coat phage protein pVIII exposed at the virion surface, thus resulting in a strong signal amplification after binding along the phage filament. (Fig. 1).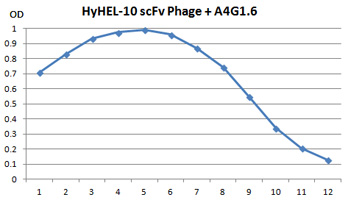 Figure 1. Binding of anti-M13 Antibody to HyHEL-10 scFv Phage. The plate was coated with lysozyme, blocked with TBST milk 5% w/v, reacted with HyHEL-scFv phage at 0.1 OD , incubated with A4G1.6 serially diluted starting at 4 microg/ml and developed with an anti-mouse Kappa-HRP conjugate.
Applications
Phage ELISA with M13 filamentous phage, phage display.
For research use only; not intended for any animal or human therapeutic or diagnostic use.
Specifications
General Characteristics:
Source: Recombinant murine IgG1/K
Immunogen: M13 phage
Specificity: Major coat protein g8p of M13 filamentous bacteriophage. This antibody does not bind to f1 or fd virions. The following helpers are compatible: M13KO7, VCSM13, M13KO7d3, CM13.
Clone: A4G1.6
Purification: Protein A affinity chromatography.
Purity: >95%
Physical Characteristics:
Concentration: 0.5 mg/ml.
Product Size: 100 µg.
Buffer: PBS plus ethylene glycol.
Storage Temperature: -20°C.