TEGX-eGFP
Green fluorescent reporter vector to monitor transfection efficiency
Technical Description
The TGEX™-eGFP vector is a green fluorescent reporter designed to monitor transfection efficiency during transient gene expression in mammalian cell suspensions culture. This variant of GFP has the mutations S65T and F64L described in the original EGFP protein (1) and the mutations S72A, N149K, M153T, I167T found in EmGFP. eGFP is very bright and can be seen even without microscope (Fig. 1). TGEX™-eGFP vector can be used as a single component during transfection to analyze transfection efficiency or at a lower level, between 5% and 10% of the total DNA, to measure efficiency during transient gene expression.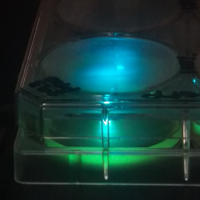 Figure 1. eGFP Fluorescence. Expression of eGFP results in very bright fluorecence that is helpful to follow transfection during during transient gene expression in suspension culture.
Applications
Measure of transfection efficiency in mammalian cells

Follow-up of transfection during protein expression by transient transfection
For research use only; not intended for any animal or human therapeutic or diagnostic use.
Specifications
General Characteristics:
Plasmid Size: 3884
Promoter: CMV + TPL
Selection: ampicillin
Replication: pMB1 high copy number
Physical Characteristics:
Concentration: 0.5 µg/µl.
Product Size: 10 µg.
Buffer: DNA Conservation Buffer (Tris/HCL 5 mM, EDTA 0.1 mM, pH 8.5, sterile).
Storage Temperature: -20°C.
Quality Control & Certification of Analysis
Product Sequence:
The entire eGFP sequence was confirmed by the Sanger method.
Certification:
Product meets all specifications.
References
Heim, R., Cubitt, A.B., Tsien, R.Y. (1995). Improved green fluorescence. Nature. 373(6516):663-4.